Wines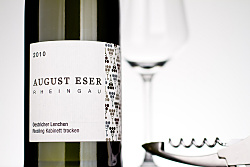 On the label our wines display the logo of the grape key and are therefore well recognizable.
We offer you:
Riesling and Pinot Noir wines of top quality.
wines from various vineyard sites, displaying their unique characteristics.
Pinot Noir wines matured in traditional wood barrels and in barriques.
sparkling wines produced with the traditional method of bottle fermentation.
a program which includes wines that are made according to the strict growing and winemaking criteria of the Charta foundation and the VDP.Pyramid (comparable to the French Grand Cru system)
You can find our wines in different countries besides Germany like Great Britain, USA, Norway, Netherlands, Laos etc..
If you are interested in buying our wines please let us know and we will tell you the possibilities to get the wine to you.